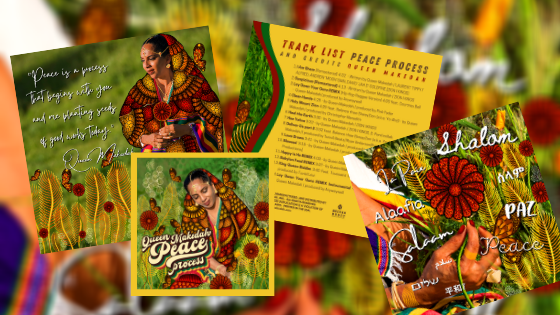 PRESS RELEASE
Queen Makedah's latest album, Peace Process, is a continuation of her work to bring peace, elevation and healing to the world through conscious and inspirational reggae and world beat music in these troubled times.   
Backstory:
The album was conceived 7 years ago, while Queen Makedah teaching in public school in Oakland and living in Richmond, California - both notorious for gang violence.  As a mother and teacher, Makedah was deeply impacted by the high homicide rates for black and brown youth and was compelled to write the potent lyrics that grace the album. 
Production:
The album features powerful collaborations with producers Zion I Kings hailing from St. Croix (Midnite, Pressure, Snoop Dogg, Lutan Fyah, Jahdan Blakkamoore, Sizzla, Anthony B) on the tracks 'I am Shem,' 'Suspicious,' 'Heal the Earth' and 'Hoo Yahvo' - graced by veteran reggae musicians like Dean Fraser, Lloyd 'Junior' Richards and Junior P.  More musical treats include the track Holy Mt. Zion, co-produced by Jamaican born bassie-producer Christopher Meredith (Lauryn Hill, Sugar Minott, Burning Spear, Ziggy Marley, Amy Winehouse);  plus a duet and Motown style performance from Toussaint the Liberator on the lover's rock tune King and Queen Riddim, and a phenomenal remix of Lay Down Your Guns inna hip-hop reggae stylee with up and coming rap artist Courtney Bell!  Other notable tracks include Clean Hands (Psalms 24), Lay Down your Guns (hip-hop reggae remix), Deliver Us part II and Happy is He remix.    
Here's what Reggae Vibes Magazine had to say: 
"Peace Process contains 14 worthwhile tracks full of consciousness and sonically this album is topnotch, a real treat for the listener's eardrums. Most of the offerings are underpinned by appealing original reggae backdrops, which are stamped with quality all over. They are complemented by Queen Makedah's beautiful vocal delivery which shines on every song."   Mr. T, Reggae Vibes Magazine  read more 
From the Artist:
Queen Makedah says 'My hope is that the songs on this album inspire more peace across religious, racial, national, tribal, economic, and social boundaries."  The album is dedicated to the youth and all those impacted by gun violence. 
Available Now:
The Peace Process album is available now on all digital outlets!  Buy or stream today on Spotify, Amazon Music, i-Tunes, Apple Music and at all digital outlets (https://www.queenmakedah.hearnow.com/peace-process) or visit www.queenmakedah.com to buy, sign-up for the newsletter or follow on social media.  
Support the work of Queen Makedah at www.patreon.com/queenmakedah or by visiting www.queenmakedah.com/donate.   
For interviews, bookings, or other requests contact oriyahmusic@gmail.com.