Chanting the Tehillim Tutorials - Overview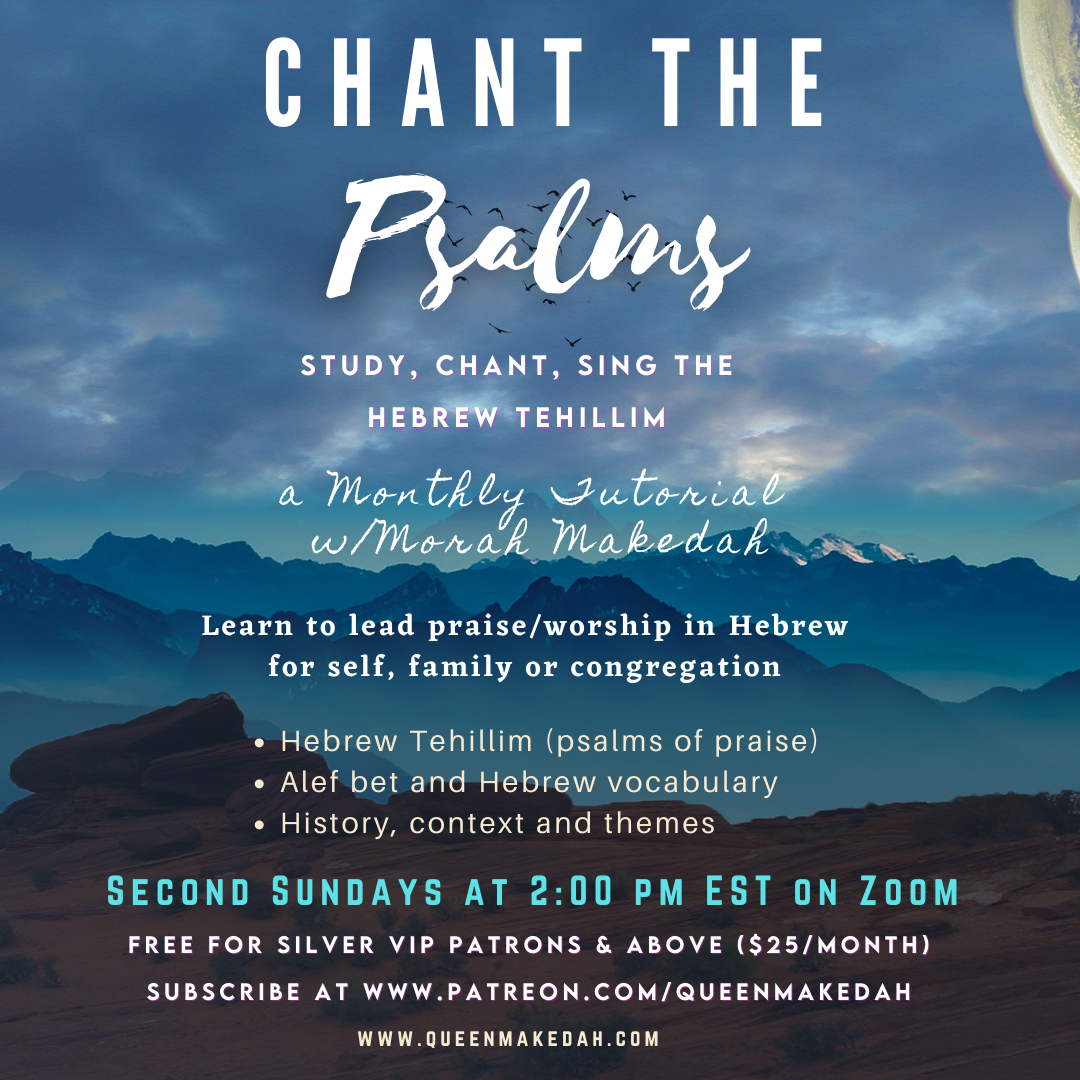 Class Objectives & Overview:  
 This class is perfect for you if you'd like to:   
Learn to read Hebrew alef bet, words, phrases and prayers
Understand Torah or Tanakh better through vocabulary building  
Learn to sing psalms in Hebrew for personal, family or congregational use.  
Perfect for individuals, families and praise and worship leaders.   
The word tells us:  
Yisrael was created as a royal priesthood unto Yah.   
Priests were teachers, healers, scribes, mediators, and also praise artists - both musicians and singers.  
Praise was a type of sacrifice (korban) to Yah, which allowed worshippers to draw near (l'hitkarev) to the Heavenly Father.  
Yah said He inhabits or dwells in the praise of Israel, therefore He finds delight in them.
When praise was lifted up in the temple the glory of Yahweh appeared.
This same sacrifice of praise went before battle and allowed presence of Yah to descend and give victory over their enemies.  
Overview:  
Each class will focus on a different psalm, either in part or whole.  Students will learn:  
Context -  author, history, use in liturgy, and how to identify types of psalms, i.e. prayer (tefilah), praise (tehilah), supplication, invocation, blessing (brachah), meditation, etc.  
Theme & Structure - theme and structure of the psalm for overall understanding of the message.  
Vocabulary - focus letters, biblical vocabulary each week.  
Sing/Read - read and/or sing common Hebrew psalms, prayers, blessings with original melodies from Queen Makedah and other guest psalmists.  
When possible, printable downloads, digital flashcards, links will be made available to class for practice. 
***This class is free for all Silver/Gold/Platinum VIP patrons of Queen Makedah!  SUBSCRIBE NOW on Patreon.***
Student Levels:  
This class will be appropriate for beginners through advanced Hebrew speakers, and will include some alef bet review/introduction.  
Calendar:  
The class is expected to begin on January 9th, 2022 and will run 2nd Sundays through June 12, 2022 with 6 monthly sessions and a break for summer.  Dates of the classes will be 1/9/22, 2/13/22, 3/13/22, 4/10/22, 5/8/22, 6/12.  (Dates and times may be adjusted).
Curriculum:  
Hebrew Tehillim, Tanakh, common prayers and blessings  
Instructor created materials  
Online articles  
Types of Tehillim covered in this class:  
Daily prayers  
Shabbat prayers and blessings  
National prayers  
Pseukei d'Zimrah (preceding Shabbat)  
Hallel Psalms (Psalms 113-118)     
Prayers for the sick or distressed
Pacing:  
The class goal will be to learn a new psalm or part of a psalm each class and how to read, sing and understand it.  
Video links:   
Students will receive a video link after each class and will need to download the video to their own computer within a short window of time in order to save the video.  Some classes or parts will be uploaded to the internet for the general public to practice.  Privacy of students will be respected and can be blocked from view in the final recordings if so desired.
Fees & Registration:  
Students subscribe to the class through monthly subscription by becoming a patron at  www.patreon.com/queenmakedah on the Patreon website.  SUBSCRIBE NOW
Class is free for silver $25 and above patrons via the Patreon website and become patrons.  Funds will go to support Queen Makedah's work as a psalmist, specifically the livestream/music video projects of 2022.
Once you sign up via the Patreon page, register for the class by following the registration link in the welcome letter you will receive immediately.  Make sure you check your promotional or spam folder if you do not see the welcome letter right away.   
**If you are not able to sign up via the Patreon.com platform, you are may pay via Paypal.me/queenmakedah, on CashApp to $queenmakedah on a month to month basis or bundle a one time payment.  Email Morah Makedah at morahmakedah@gmail.com to make arrangments.
Scholarships:  
A free scholarship to this course will be made available for every ten Silver and above VIP patrons who sign up.  If you are or someone you know is interested in a scholarship to this course, write morahmakedah@gmail.com with your request and describe your need.