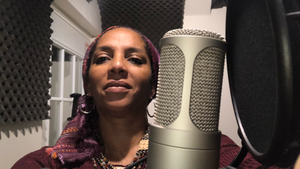 The idea for the Peace Process album was conceived about 7 years ago, while I was teaching and living in the Bay Area of California - Richmond and Oakland.  Both cities were notorious for gang violence and high homicide rates for black and brown youth.  
I was tired of seeing headline after headline of faces of young black and brown youth, with a bright future ahead of them, their lives violently snatched in the crossfire of ruthless gang violence and petty disputes.   Thus, the album idea was born out of these experiences.
The first inspiration to write about the topic of gun violence came with the song Lay Down Your Guns, early one Shabbat morning.  Later the title Peace Process for the album came, and songs like Suspicious (a Trayvon Martin tribute song), Heal the Earth, Blessed, I am Shem, to name a few…. And the latest chunes Clean Hands, and Deliver Us remix, came forward.
One by one, with Yah's help, hard work, a lot of sacrifice and the generosity of my family, friends, and fans, I have been able to tackle each track.  Now, by the grace of the Most High Yah, the album is now 15 tracks strong and the last track is being finished now!!
I am thankful for the fans and anointed writers, producers, musicians, and artists on this album, who have helped me bring these inspired songs to manifestation.
As I finally approach the finish line, it's only fitting that the last song I'm recording is "Deliver Us remix," a collective prayer for humanity.  The song addresses many of the issues that concern us all - from human trafficking to mass incarceration and climate change -  and I just couldn't release this album without it.
Although the creative work is ending, the final post production work and promotion begins and I need your help to get it done.  
If you have been blessed by my music and believe in the message of peace, I invite you to make a contribution today and help me reach my goal of $5,000 by December 15th, 2019.  
Here's where you can give:  www.gofundme.com/peaceprocessalbum 
Your donation will help me finish the mixing, mastering and manufacturing of the album as well as begin the promotion.  Once the goal is reached, the Peace Process album release date can then be set with certainty.  
All fans who donate or have donated $25 or more will get invited to a private online pre-release listening party - to rate and review the tracks.
These bonuses will be given to Fans who donate or have donated:
$100 or more - will receive a signed copy of the album hot of the press

$500 or more - will receive a signed copy of the album hot off the press, a t-shirt, a poster, their name mentioned in the liner notes of the album.

$1,000 or more - will receive a signed copy of the album, a t-shirt, a poster, their name in liner notes of the album, a personal Skype or Facetime call and/or a recorded acoustic song of their choice.