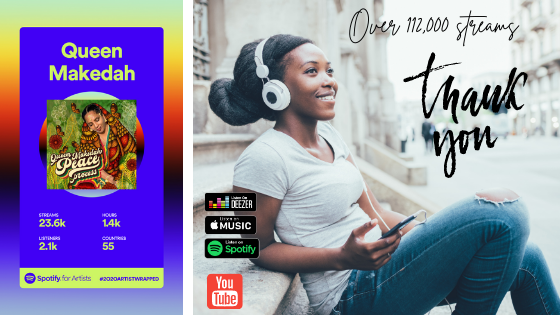 Peace and Blessings Family, Friends and Fans,
Sending sincere thanks and much appreciation for your love, prayers and support! 
With your help, Yah's healing music has reached thousands more people all over the world this past year!!!  Below, here are some of the successes of last year we can celebrate together. 
Youtube Stats for 2020: 
Youtube is still the largest and most popular music streaming platform in the world and has proven to be the top method of reaching fans of inspirational and conscious reggae music around the world. 
Thanks to fans like you, in 2020, Youtube total streams have organically reached: 
119,266 views 
33 countries 
6,448 hours 
Top Songs of 2020 on Youtube: 
Give thanks, the message of Yah Yireh reached more than double what it did the previous year with 52,000 views on Youtube this year and over 300,000 total and it continues to be my most demanded song on all streaming platforms.   
Yah Yireh 52,000+ views in 2020!!! 
I am Shem - 9,505 views 
Happy is He - 5,522 
Healer - 4,756 
Praise Him - 4,132 
Kadosh - 3,483 
Blessed - 2,485 
Lift you Up - 2,264 
All praises due!  Fans are especially inspired by 'Yah Yireh,' which gives a strong message for the difficult economic times we're in and it streams with my only 'artist featured' film-type video format, which helps carry the message much further.  
The roots and culcha chune I am Shem follows in 2nd place behind Yah Yireh, and other r&b infused praise and worship reggae songs from the Spiritual Healing album follow.  
Spotify 2020 
Also notably in 2020, Spotify reached: 
23,600 streams 
55 countries 
2,100 listeners 
1,400 hours 
International Shout Outs: 
While I'm here, I want to give a shout out to fans from these top countries and cities who have been grooving with me all year: 
Top 10 Countries in 2020: 
US 
United Kingdom 
Canada 
Brazil 
Netherlands 
Norway 
Portugal 
Guadalupe 
Israel 
France 
Top 10 Cities in 2020: 
Shreveport
New York 
Jacksonville 
London 
Atlanta 
Chicago 
Houston 
Dallas 
Phoenix 
Miami 
Looking Ahead 
Although songs from Spiritual Healing album still take the lead in streaming popularity, the last 30 days have shown increased interest in new songs from the Peace Process album.   
In fact, the top 10 songs and demographics are changing already, with Clean Hands  and Holy Mt. Zion getting attention.  HalleluYah!  
In the year to come, my hope is to bring more messages of healing to the masses through focusing on creating inspirational videos that will reach people worldwide who need to hear Yah's anointed messages. 
Join me on Patreon to find out how you can get involved and be a part of the journey (https://www.patreon.com/queenmakedah). 
May Yah bless you and yours!!! 
Queen Makedah